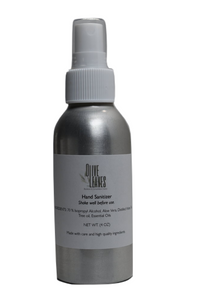 Olive Leaves Special Formulated Hand Sanitizers are a natural, plant-based alternative with pure essential oils that clean your hands and refresh your senses
Our mild disinfecting formula won't dry out your hands or irritate your skin either. This 4-ounce spray bottle is perfect for throwing in a gym bag, purse, or travel bag for fighting germs on-the-go. Made with safe, clean ingredients and pure essential oils. 
It will leave your hands smelling fresh naturally - no harsh chemical fragrances here! Organic Aloe Vera (food grade) and organic essential oils lend this sanitizer it's awesome scent.
No benzalkonium chloride, no thymol, no parabens, no phthalates, no artificial colors or dyes, and no worries.

Clean Promise: Free from parabens, synthetic fragrances, and triclosans, our products are also GMO-free, cruelty free, and naturally gluten-free. 

Ingredients: Hand Sanitizer made with 70% Isopropyl Alcohol, Aloe Vera, Tea Tree, & Essential Oils.
*These statements have not been evaluated by the Food and Drug Administration. This product is not intended to diagnose, treat, cure or prevent any disease.