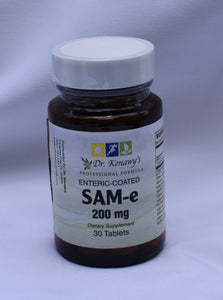 What is SAM-e?
Functions as a methyl donor, which is important in many physiologic processes (like neurotransmitter synthesis) SAM-e levels depend on folate and B12
Depression has been linked to a deficiency in folate and B12. A reeducation of SAM-e may be linked to a decrease in folate and B12, which in turn has been like to depression. That is why supplementation of SAM-e can help with depression. If you are taking any anti-depressant medication, please check with your doctor is SAM-e is safe to take with your medication.
SAM-e has some evidence of treating osteoarthritis pain. Some studies have found that SAM-e is as effective as ibuprofen and Celebrex. (NSAIDs) and improvement of joint function, but SAM-e has few side effects.
†These statements have not been evaluated by The Food and Drug Administration. This product is not intended to diagnose, treat, cure or prevent any disease. Information and statements made are for education purposes and are not intended to replace the advice of your General Practitioner. If you have a severe medical condition or health concern, see your physician.
Reference: