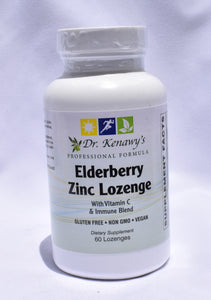 Elderberry Zinc Lozenge is a natural combination of herbal cofactors and an essential mineral that plays a major role in antioxidant defenses and healthy immune function. Elderberry contains several compounds that help support healthy digestion and regularity, as well as overall health.
What is elderberry?
They come from the Sambucus tree, which is a flowering plant belonging to the Adoxaceae family. Historically, flowers and leaves have been used for pain relief, swelling, and inflammation, stimulating the production of urine, and inducing sweating. The bark was used as a diuretic a laxative, and to induce vomiting. (1) The dried berries or juice are used to treat influenza, infections, sciatica headaches, dental pain, heart pain, and nerve pain, as well as a laxative and diuretic. (2)  Elderberry is also high in vitamin C and dietary fiber. A good source of phenolic acids, potent antioxidants that can help reduce damage from oxidative stress in the body. Elderberry contains the antioxidant flavonols quercetin, kaempferol, and isorhamnetin. The flowers contain up to 10 times more flavonols than the berries. (3)
What is Zinc?
Zinc is a trace mineral, meaning you only need a small amount daily. Your body needs zinc in order to function properly, deficiency in zinc can cause a number of issues. Some functions of zinc in the body are wound healing support, support functions of the immune system, development of reproductive support, development of taste and smell, and production and storage of insulin. Helps with thyroid and metabolism, and makes protein and DNA.
†These statements have not been evaluated by The Food and Drug Administration. This product is not intended to diagnose, treat, cure or prevent any disease. Information and statements made are for education purposes and are not intended to replace the advice of your General Practitioner. If you have a severe medical condition or health concern, see your physician.
Reference: