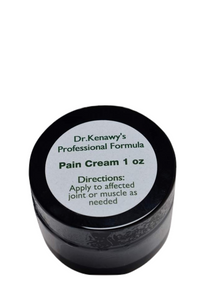 Formulated by Dr. Kenawy Sr., a veteran of the health and supplement industry for more than 35 years, and Dr. Kenawy Jr., a board-certified rheumatologist.
A natural alternative and breakthrough pain relief cream that is convenient and easy to use.
Dr. Kenawy's formula has the perfect synergy of ingredients for almost immediate soothing, long lasting temporary relief. Effective for those suffering from all types of pain, aches, soreness, and injuries. Our cream may be used to relax muscle tissue and loosen stiff joints, leading to increased mobility and flexibility.
We believe in improving your body's functions naturally.  Our formula contains essential natural anti-inflammatory ingredients that are scientifically proven to effectively soothe joints and muscle as well as rapidly reduce pain, swelling, and discomfort.
This cream may be stored in your favorite "easy access" area fo quick use at home, work, the gym or even outdoors.
We believe our product is the perfect alternative to addictive, toxic pain medications that come with harsh side effects.
Ingredients: Butyrospermum Parkii Butter, Carun Oil, Copra Oil, Rosa Damascena, Ultra Pure Mineral Oil.
†These statements have not been evaluated by The Food and Drug Administration. This product is not intended to diagnose, treat, cure or prevent any disease. Information and statements made are for education purposes and are not intended to replace the advice of your General Practitioner. If you have a severe medical condition or health concern, see your physician.