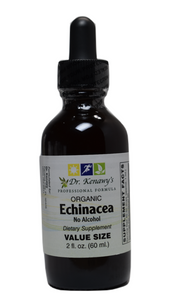 Echinacea, also known as purple coneflower, is the name of a group of flowering plants in the daisy family. Altogether, this group has nine species, but only three are used in herbal supplements — Echinacea purpurea, Echinacea angustifolia and Echinacea pallida. This brightly colored flower is native to North America where they grow in prairies and open, wooded areas. 
For centuries, it was originally used by Native Americans for its reputed medicinal properties. This plant is one of the most popular herbs worldwide and is honored among herbalists for its usefulness, especially during the cold season.
The Eclectics were a group of Doctors who used primarily botanical medicine from the 1830's until the 1930's, and were largely responsible for popularizing Echinacea angustifolia. The Lloyd Brothers were pharmacists and botanists who supplied the Eclectics with "Specific Echinacea" and Echafolta; a purified and potent form of the plant medicine made from E. angustifolia root. Prof. John Uri Lloyd studied this botanical remedy for thirteen years starting in 1885 without determining the exact chemical composition of the acrid tongue numbing chemicals now known as alkylamides or isobutylamides. It was and is still used as an "alterative" which is a class of plants known to support the removal of cellular waste while maintaining healthy uptake of nutrition at the cellular level. Before the Eclectics even thought of using Echinacea it was used by Native American medicine men and holds an honored place in the folk culture of many tribes of the plains as depicted in their artwork, particularly their beadwork. It was more than a medicine to our Native ancestors and was honored as a Spirit. This is one of the most widely used and storied medicinal plants in North American history. [1]
The exact mechanism of Echinacea angustifolia's effect on the mucosal membranes has not been fully understood until recently. Research conducted by Gaia Herbs and several institutions and Universities has elucidated compounds that have restructured our understanding of how Echinacea works. These compounds are called RxA Factors and represent the alkylamide fractions known as isobutylamides. RxA Factors are found in the roots of E. angustifolia and purpurea and also in the mature ripe seed of E. purpurea. RxA Factors help maintain a healthy inflammatory response. RxA Factors support the tissues of the sinuses and throat that are exposed to airborne stressors and help support an acutely challenged immune system. [1]
Echinacea is loaded with antioxidants, such as flavonoids, cichoric acid and rosmarinic acid, which may help defend your body against oxidative stress. Echinacea is best known for its beneficial effects on the immune system. Numerous studies have found that this plant may help your immune system combat infections and viruses, which could help you recover faster from illness. Take caution, as echinacea appears to stimulate the immune system, people with autoimmune disorders or people taking immunosuppressive drugs should avoid it or consult their doctors first. [2] †
Research has shown that echinacea plants may help treat common skin concerns. Echinacea has been shown to improve immunity, blood sugar, anxiety, inflammation and skin health. It may even have anti-cancer properties. Of note, human-based research on these benefits is often limited. [2] 
Dr. Kenawy's Echinacea angustifolia root extract liquid herbal extracts are made with organically grown and wild harvested plants of the highest quality. Each fresh or recently dried herb is individually extracted through cold percolation or maceration using the purest de-ionized water.
†Features:
Echinacea angustifolia (root) certified organically grown fresh 500mg

Easily absorbed alcohol-free liquid engages taste and smell to help the body recognize & use herbs ingested. Not hidden in a capsule from the pre-digestive senses

Extracted in small batches from the certified organic Root of Echinacea purpura plants grown on herb pharm's own southern Oregon farm

Alcohol-free, vegan, Non-GMO, & gluten-free. Herb identity assured via HPTLC fingerprinting and other methods specific to each herb
†Benefits:
Echinacea helps "activate" the immune system and stimulate certain immune cells that are critical to maintaining overall health.

Numerous studies have found that this plant may help your immune system combat infections and viruses, which could help you recover faster from illness.

Echinacea helps keep the respiratory system healthy when challenged, particularly during winter months.

Anti-inflammatory properties 
†These statements have not been evaluated by The Food and Drug Administration. This product is not intended to diagnose, treat, cure or prevent any disease. Information and statements made are for education purposes and are not intended to replace the advice of your General Practitioner. If you have a severe medical condition or health concern, see your physician.
References: 
[1] Gaia herbs. (2020). Echinacea Angustifolia. https://www.gaiaherbs.com/blogs/herbs/echinacea-angustifolia
[2] Echinacea: Benefits, Uses, Side Effects and Dosage. (2018, October 25). Healthline. https://www.healthline.com/nutrition/echinacea#side-effects